Thanks to our friends at AGI Pro DJ and the people at Reloop, we were lucky enough to receive a pair of Reloop RP-8000s to review on stop #4 on the agiprodj Reloop RP-8000 US Tour. We were one stop of many, so we'll be including everyone else's videos throughout the post. As a reminder, you can sign up for our newsletter in the sidebar and get a handy discount code for AGI Pro DJ if you wish to purchase the Reloop RP-8000s or another piece of DJ gear. Now, let's get down to business and talk about these great turntables.
Reloop RP-8000 Review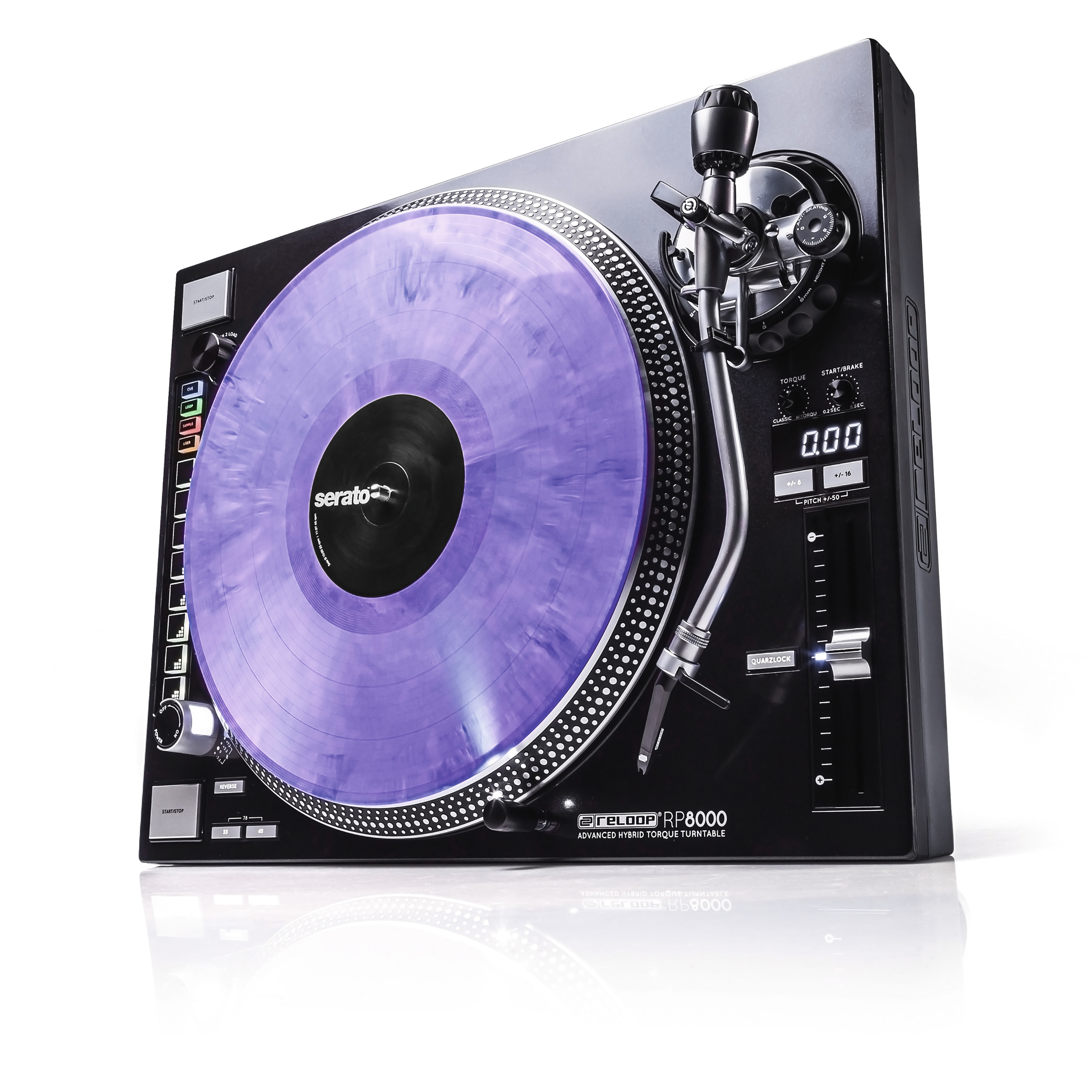 There they are in all of their "potential to replace Technics 1200" glory. Which is what you really want to know, right? Are these things good enough to replace your trusted 1200s? Hopefully we can answer that question for you by the end of our post. First, let's start with some basics that we feel you should know about.
What's In The Box?
Well, turntables of course. And cables, lots of cables. DJ Eyecon, who had the turntables on the stop before us, has an excellent video where he details exactly what's in the box from the factory, and what you'll need to look into replacing. Specifically, you'll need to look into buying a set of right-angle power cords if you plan to use these battle style, as the included power cable leads to a gap between the mixer and turntables. In addition to answering the question of "what's in the box?", Eyecon's video offers an overall excellent review and comparison to the Technics 1200 M5G that we mostly agree with. Check it out:
Now that we've covered what ships with each Reloop RP-8000 hybrid turntable, let's look into some specific areas that you may have questions about.
Midi Functions
First of all, you may be wondering why these are called hybrid turntables. Well, in addition to providing traditional analog turntable functions, the Reloop RP-8000 also has MIDI capability, allowing it to control various aspects of your DJ software. Currently, the unit ships with a map preloaded for Serato DJ, but maps for Serato Scratch Live, and Traktor Pro are downloadable via Reloop's website. 
The strip you see there on the bottom of the turntable (or on the side if you're not set up battle style) are eight fully mappable midi buttons. If you're using Serato DJ / Serato Scratch Live they are already mapped in a familiar fashion for those who have ever used Novation Dicers. The default cue mode is set to trigger cue points with each button corresponding to a unique cue point. Next you have loop mode which changes each pad's function to be a loop of varying length/bar count. Finally, sample mode allows to do what the name implies, and sample sections of the track you're currently playing
This set of midi buttons coupled with their predefined functions (or whatever functions you decide to map the buttons to) comes in handy and allows you to get your cues and loops while your hand is still on the turntable. Unfortunately that feature is a double edged sword, as you may find yourself accidentally hitting these buttons while playing out.
Overall, these midi pads are a convenient addition that prove to be more than just a gimmick. By hybridizing the turntable, Reloop has done two things: they've reinforced turntables as a good choice for any club's dj booth as well as positioned turntables to be a staple for the future of DJing.
There is also a Trax / Browser button that is used to scroll tracks by default. This is another cool addition but the control itself lacks any tactile feedback and your fingers just kind of slide around aimlessly on it.
Build Quality And Features
As someone who still carries a set of 1200s to a lot of gigs, I keep hoping they'll get lighter. But they don't, they stay heavy. You'll be interested to know that these things weigh about the same as 1200s. I suppose we can attribute this to the motor/drive parts. They may be as heavy as 1200s, but will they last as long?Only time will tell. Overall, they're built well, and we are confident they are the best built turntable currently on the market. 
The torque on these is adjustable, the default setting being "classic" which is right at 12 o clock on the dial. Dialing all the way to the right you'll enter HITORQUE mode – and that's where the fun begins. On HITORQUE mode these things will take any drag you throw at them and jump right back into action. The start/brake is also adjustable on this turntable. With the torque up and the brake set to instant, things happen…well, instantly. Check the clip below for an example of what I mean:

https://www.youtube.com/watch?v=bXx18p2JEEk

One of the features we really appreciate is the LCD readout for pitch. It's clear and bright and should be easy to read in the darkest of DJ booths. No need to second guess where your pitch is with this display reading out your current setting at all times. Another great feature: the platter light pops out, making it easy to replace. As a bonus, the included light is an LED that is SUPER bright and vastly superior to the lights found on any 1200 you've seen.
Speaking of pitch, there are three pitch modes: +/- 8%, +/- 16%, and +/- 50% (activated by pressing the other two pitch buttons simultaneously). On a similar note, you can activate 78 RPM mode by pressing the 33 RPM and 45 RPM buttons simultaneously. As a side note: playing your music at 78 RPM and + 50% creates quite a strange sound, and will likely burn out your control vinyl very quickly.
The tonearm feels very similar to that of a 1200, retaining a familiar curved tonearm and forgoing the straight tonearm of other turntable models. Some people have issues with the platter and it's height / depth. Some felt it was a little high, others felt like it tended to sink in under pressure (which isn't an issue unless you consider yourself to be "heavy handed"
The people up at Table Manners were able to test these out at their event in Boston. You can see they stand up to the abuse a true turntablist subjects a turntable to. If you've any doubt that these can stack up against a 1200, check out this video to see some super talented DJs getting down on em:
A Few Bugs To Squash
I only had the chance to play around with these for a couple of days, but even in that time I found a couple of bugs here and there. For example, one of the turntables magically decided to trigger a 1/16th auto loop one of the tracks I was mixing:
It should also be noted that you should not power down the turntable that is actually connected to your computer during your sets. Once you power it down, you'll have to let everything restart before you regain midi functions. For example, in this video, part of the routine including looping a track, then powering down the turntable. As you can see, the looping continues with no way to escape:
Still, these are small things that can be fixed with firmware update. Bet you never thought you'd see the day where you were updating firmware on a turntable, eh? Also, we could also just be really dumb, as I'm sure someone reading this will point out.
Who Are These For?
Honestly I, and pretty much everyone I've talked with, decided that we like the turntable itself, but we find the midi to be redundant if your mixer already offers midi functions. If you're sticking to the basics for the midi controls then you're just repeating what you've already got in a Rane Sixty Two mixer for example. Alternatively, if you hate using the cue buttons on your mixer, or have complicated routines/sets then having an extra optional set on the turntable will be a welcome addition. 
Don't want the midi functions but interested in the turntables themselves? Then make sure to check out the Reloop RP-7000 model which is the same turntable, minus the midi capability.
Still, we're wondering who exactly these things are geared towards. If you already have a functioning set of Technics 1200s, then you'll likely not want to replace them with these. However, if you're looking to add a new set of turntables to your gear lineup, then by all means consider these.
The Bottom Line
Yes, these are a worthy replacement to the now out of production Technics 1200s. Out of the turntable options currently on the market, these would be your best bet. They're available over at AGI Pro DJ [don't forget, signing up for our newsletter will get you a sweet discount if you buy from them]
Special thanks again to our friends at AGI Pro DJ for sending these to us and the other folks in the videos above for putting together comprehensive footage of these decks.